What can we learn by studying ice and snow? From chemistry to poetry, try these classroom activities to get your students excited about the cold!
by Katharina Weiss-Tuider and Christian Schneider
Until now, the world of the Arctic was a mystery. This guide follows the 2019 MOSAiC expedition whose mission was to let their vessel freeze in the sea ice and drift to the north pole. Why? To study how the Arctic is changing. Featuring photographs, facts, diagrams and more; the thrilling world of the Arctic will come alive as readers discover its secrets.
Student Activity
The MOSAic expedition site has a whole list of educational activities for elementary to high school students. They can learn more about the Arctic ecosystem, make ice cores, and much more. Find the entire list here: https://mosaic.colorado.edu/activities. Also check out educational resources about the expedition here: https://mosaic-expedition.org/education/.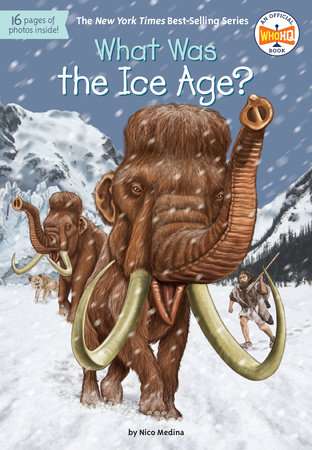 by Nico Medina
A part of the "What Was" series, this book is a look at our world 20,000 years ago when glaciers and ice covered most of our planet.
Student Activity
All kinds of interesting mammals lived during the Ice Age. Have students research some of their favorites. Here are some ideas: woolly mammoths, saber-toothed cats, giant ground sloths, and Irish elk. Have them create diagrams of their ice-age mammal, drawing pictures of them, labeling different parts, and including facts when they can. Here are a few sites where students can find more information about their favorite ice-age mammals:

by Claire Eamer and Drew Shannon
A fascinating look into how unexpected things have been emerging from ice melting due to global warming. The book  discusses glacial archaeology, a scientific field in which researchers study these finds and discover new things about our past.
Student Activity
Ice mummies are revealed when ancient ice melts. And there is so much we can discover about their lives by studying their remains. Ask students to read more about an ice mummy, such as Ötzi the iceman, and then write a story about a day in the life of that person. Tell students to include factual information in their narratives, citing their sources.
by Douglas Florian
With poetry, wordplay and lots of humor, poet Douglas Florian introduces children to animals that live in the polar region, and also explores scientific concepts like global warming, animal adaptations, and much more.
Student Activity
Take a look at a different part of the cold—snowflakes. Show students some macro photographs of snowflakes, explaining how each is unique. Have students pick a favorite and write a poem about its shape and form. The Library of Congress has some great resources for students.
---
Karen Latchana Kenney loves to write books about animals, and looks for them wherever she goes—from leafcutter ants trailing through the Amazon rain forest in Guyana, where she was born, to puffins in cliff-side burrows on the Irish island of Skellig Michael. She especially enjoys creating books about nature, biodiversity, conservation, and groundbreaking scientific discoveries—but also writes about civil rights, astronomy, historical moments, and many other topics. Visit her at https://latchanakenney.wordpress.com