Kids of all ages wonder at the world of snow. Listed here are some great resources to learn more about it. From blizzards to ice ages, these books have something for everyone fascinated by snow and ice.
Curious About Snow
by Gina Shaw
The very basics of ice and snow. With great photographs, this book starts with the basics, right from what ice is, how it is formed, what snowflakes are, right up to blizzards and snowstorms and how people have fun in the snow!
Ice: Chilling Stories from a Disappearing World
by various authors (DK publishers)
This beautiful big book full of stunning photographs is a deep dive into the frigid regions of our earth. It gives readers a complete picture of our icy world, from prehistory, to the geography of these lands, to the flora and fauna, and how humans have adapted to living in cold regions.
Meltdown: Discover Earth's Irreplaceable Glaciers and Learn What You Can Do to Save Them
by Anita Sanchez (Author), Lily Padula (Illustrator)
This kids' guide to glaciers is packed with information to give readers an exciting overview of glaciers and how important they are. With graphs, charts, photographs and more, this book will dive into the secrets of glaciers, teach readers how to become climate activists, and share ways to save the glaciers.
Mission: Arctic: A Scientific Adventure to a Changing North Pole
by Katharina Weiss-Tuider and Christian Schneider
Until now, the world of the Arctic was a mystery. This guide follows the 2019 MOSAiC expedition whose mission was to let their vessel freeze in the sea ice and drift to the north pole. Why? To study how the Arctic is changing. Featuring photographs, facts, diagrams and more; the thrilling world of the Arctic will come alive as readers discover its secrets.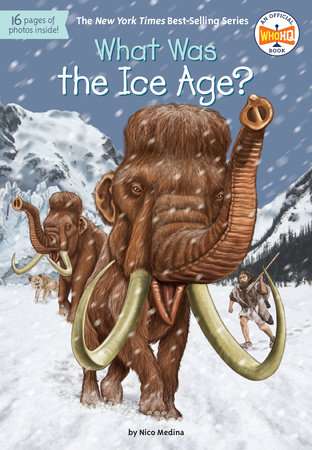 What Was the Ice Age?
by Nico Medina
A part of the "What Was" series, this book is a look at our world 20,000 years ago when glaciers and ice covered most of our planet.
Explore The Ice Age!: With 25 Great Projects
by Cindy Blobaum (Author), Bryan Stone (Illustrator)
What exactly is an ice age? How do organisms and ecosystems deal with them? How do they affect the Earth? Explore the Ice Age illustrates with activities what happens during and after such an event. Filled with illustrations and fun facts, this book will be a welcome addition to your library.
Out of the Ice: How Climate Change Is Revealing the Past
by Claire Eamer and Drew Shannon
A fascinating look into how unexpected things have been emerging from ice melting due to global warming. The book  discusses glacial archaeology, a scientific field in which researchers study these finds and discover new things about our past.
Snow (X-books: Weather)
by Bill McAuliffe
Take a look at the five most devastating snowstorms recorded and discover fascinating information about the wonders of snow.
Blasted by Blizzards (Natural Disasters: How People Survive)
by Jill Keppeler (Author)
Want to learn the basics of blizzards? Blasted by Blizzards focuses on why they occur, what happens afterwards and what to do to prepare for a blizzard-shaped disaster.
Ice! Poems About Polar Life
by Douglas Florian
With poetry, wordplay and lots of humor, poet Douglas Florian introduces children to animals that live in the polar region, and also explores scientific concepts like global warming, animal adaptations, and much more.
Susan Summers is a wildlife enthusiast and an author. Contact her at: https://susan-inez-summers.weebly.com/
Shruthi Rao is an author. Her home on the web is https://shruthi-rao.com